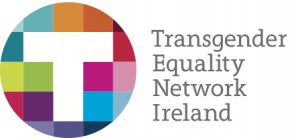 TENI is calling for human rights allies and trans people to take action, following a further delay in the progress of Gender Recognition legislation. In the latest Government Legislation Programme, the expected publication date for Ireland's Bill for Gender Recognition has been moved back to 2014. The Gender Recognition Bill remains on the 'C List', meaning that the Heads of Bill have not yet been approved by Government.
Details of TENI's ACT NOW campaign are at www.teni.ie/act_now
"We are surprised – and deeply disappointed – at the further delay," said Dr Orlaith O'Sullivan, TENI Campaigns & Advocacy Manager. "This is a matter of basic human rights for people in Ireland. Our country remains in breach of the European Convention on Human Rights, and the international community is keenly aware of the State's inaction."
In December 2012, the Council of Europe Commissioner for Human Rights Nils Muizneiks wrote to Minister for Social Protection Joan Burton TD to "strongly encourage" her to proceed with legislation. The previous Commissioner for Human Rights Thomas Hammarberg spoke several times on Ireland's failure to legislate, most recently declaring: 'There is no excuse now for not granting this minority their full and unconditional human rights". In 2008, the UN Human Rights Committee expressed its concern at Ireland's lack of legislation, cautioning that the State should "recognise the right of transgender persons to a change of gender by permitting the issuance of new birth certificates".
"The trans community in Ireland has waited decades for Recognition," said TENI Chair Sara Phillips, "and while Government neglects their obligation to legislate, people continue to be marginalised and excluded. The suicide attempt rate among our community is 40%. We have waited long enough for our basic human rights."
TENI is urging trans people who were born in Ireland to request a new birth certificate from the Registrar General.
"It is deeply frustrating and saddening that this issue is not resolved," said Vanessa Lacey, TENI Health & Education Officer. "I am entitled to my birth certificate stating my true gender, which I have requested but not received. How long more? "I would urge people to contact the Registrar General and demand what you
are entitled to," continued Lacey, "and please let us know how many years YOU have waited".
TENI is counting the years that people in Ireland have been waiting for Recognition, and publishing them in on their website. The first years counted are those of Dr Lydia Foy, who first requested her corrected birth certificate in 1993.
As part of ACT NOW, TENI is also seeking support from allies in Ireland and abroad. Everyone with a commitment to human rights and equality can do something to help.
"We're asking people who care about human rights to write a letter," explained O'Sulllivan. "One letter, one stamp – it might not sound like a great deal, but it will make all the difference in the world. We're calling on our friends at home and abroad: please help Ireland to move forward."
For full details of TENI's ACT NOW campaign and draft letters see www.teni.ie/act_now
FOR FURTHER INFORMATION
Contact TENI on (01) 873 3575 or email news@teni.ie
TENI Campaigns & Advocacy Manager Dr Orlaith O'Sullivan is available for interview, and can be contacted on 089 972 1053.
ABOUT TENI
Transgender Equality Network Ireland (TENI) seeks to improve conditions and advance the rights and equality of trans people and their families. TENI works in four main areas: support, education, advocacy and capacity building.
www.teni.ie
For details on the campaign for gender recognition in Ireland see www.teni.ie/recognition